Special rollers
In the following you will find some examples of very different spiked rollers for special fields of application.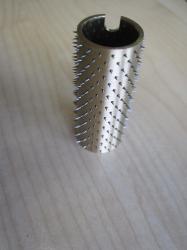 The spiked rollers of the opposite picture are used in wood processing machines. In edge gluing machines it is necessary to transport the edge to be glued safely within the machine. Our thousandfoldly proven spiked rollers with a diameter of for example about 20 mm always perform this task excellently.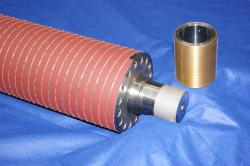 Our biggest spiked rollers are more than 4 m long. Therefore only a cut-out of them can be presented to you. These spiked rollers are solid steel rollers with pins and they have got a friction lining. Such huge spiked rollers are used to transport carpets out of carpet weaving machines. Due to the existing high loads theses rollers consist of only one shaft.

Needle rollers System "GEVA" are in similar dimesions. These transport-rollers are steel-rollers covered with plastic and coated with a friction pad. The pins are hammered into the surface. They are used in weaving machines of Dornier, Picanol/Meersschaerdt or Itema/Sulzer. Because the pins are set from outside they can be replaced easy. The friction pad cannot be replaced.

The last example shows a pinned roller for textile machines. In opening machines fibres are hold back by help of such rollers. High roller speeds and beating loads make a precise and safe production process necessary.