Spiked rollers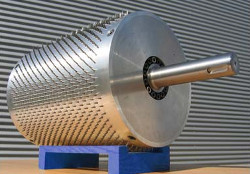 Our spiked rollers are suited for
perforating
embossing
transport
fibre opening
and many other functions
Normally our spiked rollers consist of segments (perforation and microperforation) or complete, spiked rollers (opening or transport rollers).
Only highest quality steel pins made in Germany are used.
Skilled personnel work at state-of-the-art CNC machines and thus reach the requested necessary accuracy.
Being an experienced specialist with many years of experience in the different fields of application with spiked rollers we are able to offer you an optimal service.