Wooden-lags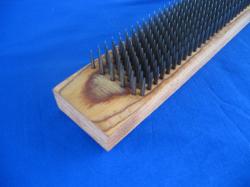 For our high performance lags of wood we only use the best beech laminated wood as raw material. We use it to produce carrier lags of any requested form and dimension for all types of machines in our wood workshop. Due to the dimensional accuracy of our lags an immediate assembly and therefore shorter maintenance times are possible. According to the customers´ requirements the surface of the lags is left untreated or it is coated after the finishing grinding.
The use of the modern CNC technology guarantees a precise and exactly reproducible arrangement of the borings as regards density and inclination according to our customers' requirements. Naturally also the fixing holes can be applied very precisely as far as the borings in the cylinder are accurate and can be specified exactly.
Please send us a drawing or use our questionnaire.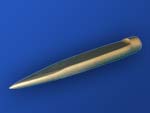 We only use pins of highest German quality. Therefore a higher performance due to a longer service life also at difficult fibre materials is guaranteed. Round pins can be inserted radially or diagonally. Angularly inserted pins are more aggressive and open better. However an angular use of pins can only be recommended if the lags have not to be turned for reasons of wear and tear. Flat pins and sword-type pins are more aggressive and more stable than round pins. Sword-type pins are flat pins with an optimized form and an oval profile. At machines with multiple cylinders the sword-type pins should favourably be provided for the first few lags.