Cylinders - readily assembled or repair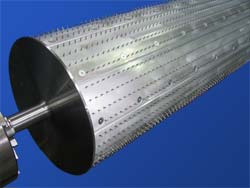 Complete cylinders for recycling or opening-machines consisting of a base body provided with spiked lags of aluminium or laminated wood. They are used to open or tear fibres as well as for retention or feeding-rollers in feeders.
We supply the complete units pre-finished to machine factories according to the customer's drawing. Naturally we are always at your disposal with our know-how as concerns new constructions and we would like to support you to find a more efficient and cheaper solution.
Naturally we also rework your existing cylinders. However this is rather unusual since today the installation of our lags is no problem due to the high precision of the profiles and fixing holes.