Hot Perforation Machines
Tambula manufactures hot perforation machines with a range of techniques suitable for a wide range of materials. Machines can be built for working widths of up to 4 meters.
Spiked roller
Normally mounted above the backing role for easy cleaning and maintenance
Backing role
brush rollers for large penetration depths and large holes
rubber rollers for micro perforation and big pressures
Heat transfer types
Outside infrared heating
Advantages
inexpensive
simple
Effective heating of needle points
Disadvantages
moderate heat supply
difficult measurement and control
fire danger because of exposed thermal source (≥ 650°C)
Inner electric heating
Advantages
high heat input
cost effective
no moving parts with Tambula system, no maintenance necessary
no fire danger
high efficiency
Disadvantages
thermal distance until needle points are heated
difficult control because of potentially big hysteresis and irregularities
Inner heating by heat transfer oil
Advantages
good control characteristics, low risk of overheating
useful for sensitive material needing precise control of temperature
Disadvantages
high costs
rotary feedthrough wears out
risk of leakage
careful maintenance needed
low efficiency
Drive
For best control performance Tambula uses only servo geared motors. The reference rotation speed can be provided by a central control system as an analog value or via bus. The speed can optionally be captured by a sensor on a deviating shaft.
Depth control
The backing role can be lifted pneumatically or hydraulically, dependent on the pressure needed. The limit stops can be adjusted for variable perforation depths.
Temperature control
The temperature of perforation is generally captured on the surface of the perforation roller. With electric heating, segments of the roller can be controlled seperately to compensate faster cooling of the marginal segments.
Safety
The perforation roller is shielded while threading
A safety control monitors all doors and the roller shield, threading of the material is safely possible while the roller is hot
With electrical heatings all heating segments can be controlled and monitored seperately
Easy operation
Spiked roller is easily reachable from above
Options
Adjustment of penetration depths via servo motors
Length compensation for constant web tension
Torque controlled draw roll for use with densely spiked rollers and thick materials
Complete surface temperature monitoring
Remote control
Touch screen for easy operation
Machine unit on wheels for easy relocation
We engineer complete machines for micro perforation of foil, paper, foam rubber or metal. Manifold materials can be processed at high speeds with our cold or hot perforation machines.
Please request a quote with our questionnaires.
HPU2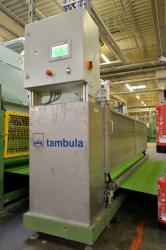 Hot perforation machine for perforation of nonwovens
Working width 2700mm
Inner heating by heat transfer oil via rotary feedthrough
Pneumatically moved backing roll
Touch screen for all settings and recipe management
Manual depth adjustment
European model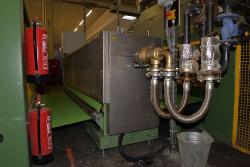 HPU3
Hot perforation unit for perforation of special material like synthetic leather and foils up to 350°C
Outside infrared heating
Pneumatically moved backing roll
Depth adjustment via servo motor
Touch screen for all settings and recipe management
Torque controlled draw roll with servo motor
With wheels, completely pluggable for easy relocation
European model
HPU4
Hot perforation unit for perforation of special materials up to 350°C
Inner electrical heating
pneumatically moved backing roll
Manual depth adjustment via central hand wheel and digital display
Model for USA